How To Promote Your Self-Published Book (11 Best Strategies)
Most self-published authors work hard on their books, but when the time comes to publish, they struggle to get book sales. Often, it's not a question of the quality of the book, but the quality of the marketing.
How do you go about promoting a self-published book? You don't have traditional publishers to step in and recommend strategies or a team to help you. It's all up to you.
But you're not totally alone!
We have made a list of all the ways you can promote your book as a self-published author.
Know Your Audience
Promotion becomes a whole lot easier once you know who you're marketing to. While you're typing away at your book, it's best that you know exactly who you're writing this for.
For non-fiction authors it'll be plain and simple. For example, your book could be for people on the move that need quick recipes. Or your book is for people who want to learn how to balance their work and life.
For fiction authors it'll make sense to see who authors in your genre are aiming their work at.
This stage will require you to do research and understand the demographics of your audience. You need to know what platforms they're on and what they're interested in.
Your author brand then becomes a breeze to maintain and manage this way.
Picking your target audience early on helps you get creative with how you sell and where you sell.
For example, if you're writing a book titled The Ultimate Business Travel Guide, you could sell it at the airport where plenty of business folks are traveling for work.
Be An Early Bird
This may seem like you're jumping the gun…but start promoting while you're writing the book.
Crazy, right? But there's a method to the madness.
If you start putting out content that relates to the book you're writing, you're establishing yourself as an expert and getting your audience interested in what you have to say.
Again, this is much easier to apply for non-fiction authors. But for fiction authors it makes sense to spill the beans on writing a sequel or prequel or even a new title to get readers excited.
Fans will flock to your new book once it's released. New readers will have heard of your book enough times that they're closer to purchasing it than they would be if they only heard about it near launch.
Perfect The Book First
When learning how to promote books, you may be running to create promotional material, but before you do that, you need to look at the book itself.
We know you've written a captivating book and everything external about your book needs to represent that. The key to promoting your book well is making it look appealing as well as increasing its online coverage.
The title of your book needs to fit the genre and be memorable. And in the case that readers forget it, it needs to be SEO friendly. We posted SEO For Authors to break down everything you need to know about Search Engine Optimization.
Use free tools like Google Ads to test out title and description ideas and see what is popular among your target audience.
The description of your book needs to seal the deal with the right audience. Research what's worked for others in the past and see how reviewers describe similar books. Think about incorporating those details into your description. Also, sprinkling in some SEO into the descriptions on Goodreads and Amazon can't hurt.
Lastly, and most importantly, your Book Cover. This is the first thing readers see when they look at your book…make this first impression count and make it last! A good book cover basically promotes itself.
There are a gazillion books out there and it'll be hard to stand out. So, make sure your cover meets all the other criteria perfectly to hit book cover perfection:
Genre: It needs to seamlessly fall into your genre so that your target audience's eyes are drawn to it
Style: Your cover needs to pop and grab attention. Choose the colors and fonts thoughtfully.
On brand: You know a Sarah J. Maas book when you see one, so, aim to accomplish the same level of branding with your books. Besides overall branding, your series should also link easily together with an overall series brand.
Professional: Your cover needs to be well designed since it's going to represent the quality of your book. If your cover looks cheap and amateurish, what does it say about your writing?
There's a lot to consider when it comes to a book cover, so be sure to read up more thoroughly on book cover designs that sell.
Get Some Shining Book Reviews
The first thing people check before buying something is the reviews. Those reviews on Amazon and Goodreads can be the golden ticket your book needs to flourish.
Just think of how often you've bought a book online with little or no reviews. You definitely think twice, right? Does nobody really care about this book? Has anyone even read it?
Like it or not, what other people think about something goes a long way towards helping us form our own opinions.
You can't cross your fingers and hope people post reviews (you can, but it's going to get you nowhere, slowly).
You have to be proactive and hunt those reviews down. No binoculars and camo needed, just some free copies of your book (or ARCs), cold emails, and a good attitude.
You can enlist the services of some professional book reviews like Kirkus and Netgalley, which will attract readers on your book's page on Amazon and your author website. Or you can provide ARCs to Beta Readers, Alpha Readers, subscribers on your email list or book bloggers. Let them know the deadlines and ask them to post their honest review.
Having reviews come in on launch day can help your book rank higher on the book charts on sites like Amazon and BookBub, giving it a better chance of finding your target audience.
Get Book Endorsements from Respected Influencers
This has a similar effect to Book Reviews…but dialed to a hundred. If you can manage it, try to get your book endorsed by some big hitters in your genre, in your field, or in the book community and watch your book sales skyrocket.
Slapping a glowing endorsement on your cover by someone well respected by your target readers will really assist you in book promotion.
Launch An Author Website
Although most of your sales will probably take place on Amazon, you need a central HQ to rally your inner community around, build your email list and really show your fans what you're about as an author.
Yes, we're talking about your Author Website. Anything and everything related to you or your books can and should be found here.
You can promote your book by adding content like blogs leading up to the release, excerpts from your book, etc.
Some ways to use your Author Website to promote your books are:
Events Page: Your promotion events won't go unnoticed if there's always a site displaying them.
About The Author Page: Letting readers get to know you on a personal level can help you build strong connections. If you need help with your Bio then check out our guide on how to write and engaging "about the author" page or section to inspire you.
Newsletter: Your website is where you'll build your email list where you can start long-lasting relationships with your fans and marketing to people that are not fans yet. We'll go over email marketing in the next section.
Books page: You can display your carefully crafted book descriptions and purchase links for your books on this page. You can promote upcoming releases uniquely with book cover reveals and pre-order exclusive content.
Website Analytics: You can check the insights using Google Analytics and use it to optimize your website and make it as effective as possible.
These are just some of the ways to use your Author Website. If you want to learn more, then check out 67 Author Websites That Wow (A Complete Author Site Guide). We know a lot about building beautiful author websites, so if you want a permanent online presence, contact us!
How to Promote Books Using Email Marketing
If you want to get more readers and turn them into super fans that feel they have a real relationship with you, email marketing as an author is a must.
You can use this platform to share blogs, promote books and your other work and services. This will increase your brand awareness, making promotion go smoother. But how do you get sign-ups?
Using reader magnets you can give readers an incentive to exchange their email address for something of value to them.
This could be a free eBook, giveaways, and other exclusive content readers can find nowhere else. If someone signs up and they haven't read your books, your newsletters are an opportunity to turn them into readers.
The key to good email marketing is making quality content that engages your target readers.
Reach Out to Others with Bigger Audiences
When you promote your book, you need to expand your circle of influence and get in front of someone else's audience. Whip out the laptop, notebook, pens, and your phone. It's time to go digging for people, platforms and companies to reach out to.
Starting an outreach campaign can be daunting to start with, but when it's well curated it'll promote your books well after launch.
This step is the long game in terms of developing lasting relationships with industry professionals and niche influencers in your space.
Something to keep in mind is that influencers with content platforms like podcasts, video channels, radio shows, etc. need new content all the time. You're actually solving a problem for them when you offer to speak on their platforms.
Once you find these people, ask them to feature you and your book. Here's how to promote your book:
Interviews: Pitch your book to relevant talk shows, podcasts and radio shows and show them the value of interviewing you about your book on their shows.
Blog Tours: This is basically a virtual book tour where you write about your book on a Blogger's website and promote your book to their audience.
Bookstores and Libraries: Pitch your book to these locations with evidence of your following so they know your book will sell, making it more likely they'll stock your book.
Book Signing and Reading: We have a blog on how to set up a book signing successfully, but to summarize – reading a passage from your book, answering questions and having fun activities will help you build your connection with fans and new readers alike.
Book Awards: Submit your book for awards. What's the worst they will say: no? But the alternative is a nomination, or, better yet, a win! Remember to put a book award on your cover, your bio, and your book description to make your book even more attractive.
Creative locations: Look up expos and festivals related to your genre and book's topics and ask them if you can put up a stall to network and sell books.
Once the relationships are built, you will be able to reach out to these people at the next book launch with more ease.
Pro Tip: Once you feature on someone else's platform, always ask them if they know 2 or 3 others with similar platforms that they think might want to feature you. It's much easier to build a new relationship when you're introduced by a mutual connection.
Ideas for Your Promotional Content
Let's go in depth with what content you can create and share to promote your book. Some of these can be created or organized by yourself but others you may need some help to make it look professional.
Create Book Teasers
Book Teasers should be created well before the book releases to build up anticipation. You want to create an intriguing picture that gives your readers a sneak peek at what's to come while making them want more.
Your Book Teaser can include quotes from the book from tense scenes or reviews already shared about your book, among other important details like your author website link and book title.
Make sure to check out our blog on Book Teasers if you want to know the ins and outs of how you can create one that has the audience at the edge of their seats.
Create Book Trailers
Videos make the world go round at the moment, so take advantage of it by creating a book trailer. It should be short enough that it doesn't overstay its welcome and long enough that it gives readers a taste of what your book has to offer.
Create a mini-script for how your trailer should go so you know exactly how you want to hook your audience.
If you're interested in making one, then check out Epic Book Trailer Examples for tips and analysis.
Write A Blog
Self-published Authors have many things to say, and not all of it can go in their books. That's what blogs are for. You can use this platform to keep your audience up to date with your work, your personal life and topics surrounding your books.
This is a long lasting promotion, when used right. Post regularly, but more frequently near your book's release date to get your audience eager.
Remember to always keep content relevant to your space. If you need expert advice on how you can start or refresh your blog, check out Blogging for Writers: Advice From The Experts.
Hold Giveaways and Contests
People love getting things for free. It may hurt your wallet a little now, but the long-term benefits are greater. Giving your book away at no cost can create a fan that purchases more of your books. Or if they're already a fan, this could be another review that helps you promote your book.
You can use Giveaways and contests to get your community to interact with you and be active on your platform.
You simply ask them to like the post and share their account handle in the comments section. For those who won, they'll be happy customers. For those who didn't, they'll be even more aware of your book and more likely to buy it.
Share Videos and Livestreams
Creating video content is becoming a safer bet in this digital world. It's easy to consume and engages this global village like no other content.
These are the type of videos you can create:
Hold Q&As
Have your audience submit their questions and shoot a video of yourself answering them. For example, near the book launch, you can ask your audience to submit their assumptions about the characters or plotlines in your book and you can answer by telling them if they're right or wrong.
Share Book updates
Vlog about your progress and give your audience an inside look at your process.
Or vlog your personal life to connect with your fans to show relatability.
Get on trend
If it ain't broke, don't fix it. If it suits your author brand, post what is trending, whether it's a funny dance or meme.
If that doesn't work for your brand, see what other authors or book influencers are posting and replicate it in your unique way.
You want to stay in view of your audience, so they're more likely to check out your work.
If you're brave and bold enough, going live is a great way to interact with your fans. You can use this space to talk about your book in a natural, fun way. It just adds that personable flare since your audience can react to you in real time.
How To Promote Books with Social Media and other Platforms
If you're new to social media, the best way to start is small. Find a couple platforms that your target audience hangs out on and master those first. If you're a pro, then make sure you're using your platforms to the maximum to properly promote books.
That being said, social media is not the be all and end all when you promote your books. There are some other platforms mentioned below that will still really boost your book promotion strategies.
Facebook
Facebook has the largest demographics compared to all the other platforms. If you have a target audience, they're most likely on Facebook.
Facebook can be a great platform to use for joining relevant groups or creating your own for networking. You can also have ads run on Facebook to promote your book.
Paid advertising can seem scary but it's a targeted method that can definitely work better than just posting updates about what you had for breakfast.
You can use your Facebook Ads to promote your book or your newsletter, and a great place to link to both is your author website.
Creating a successful profile on Facebook can be tricky, so check out our blog on Facebook Page for Authors.
Twitter
Twitter is a place where people like to talk about themselves and just write their thoughts. Which makes it a great platform to solidify your author brand.
If you're a nonfiction author, it works particularly well since you can share your expertise in shorter, digestible chunks for your target audience.
Twitter is also useful for connecting with other authors, agents, media professionals, influencers and readers.
Remember to take advantage of writer hashtags so you find your audience easily.
Instagram
Instagram is best used for pictures and video content. Your book teasers and trailers and memes will have a cozy home here.
Using reels and Live videos, you can interact with your audience easily and strengthen those bonds.
You can also network on Instagram by befriending Bookstagram influencers and (after some time) asking them to promote your books.
When it comes to regular posts, the sky's the limit. You can post about your personal life, giveaways, pictures of events you've been to, your workspace aesthetics, etc.
Hashtags are so important to finding your audience so use them wisely.
Lastly, Ads also play a role here since Facebook owns Instagram. Feel free to promote your successful posts as ads.
TikTok
There's no mystery that the young new platform on the block is for the younger audience.
Well-edited videos made to engage, intrigue and entertain in a short period of time. Those of us that remember Vine may be having flashbacks…
But TikTok seems like it's here for the long haul with the introduction of paid advertising that flows well with the rest of the content on the platform.
You can use TikTok similarly to Instagram in terms of book trailers, giveaways, sharing personal updates, book cover reveals and networking with BookTok influencers. There are even pictures now too!
This may be time consuming to create so much content so it may just be worth connecting with creators on TikTok and having them promote your book.
Goodreads
We've discussed a lot on the topic of your target audience…but if there's one place we can guarantee you'll find them, it'll be Goodreads.
This is social media for readers. Everyone talks about books and nothing else. The author's dream!
Use Goodreads to its full extent by creating a stocked-to-the-brim profile that has your bio, books, social media links, author website link, recent reviews and FAQs about you.
From there, you can host giveaways, connect with popular reviewers, discuss your books, and get your books on Listopia for your audience to find it.
Goodreads also has paid advertising, which seems highly worth it since you'll be promoting your book to readers only.
Amazon
Optimizing your Amazon Author Central account can be one of the smartest things you do as a self-published author since this platform contributes to a large piece of the pie in eBook sales.
Make sure your page has everything filled out and add on extras like your book trailers, reviews, reader magnet, etc. that'll help promote your books.
Amazon book listing is a fantastic tool to make sure your book is in the right genres and viewable by your target readers. When picking your categories for your book you only have 2 options. Remember to contact Amazon support afterwards with all the relevant categories you'd like to add on.
Pinterest
Pinterest is a non-social media platform where no one chats and all everyone does is stare at aesthetically pleasing pictures.
It's not the most interactive space to promote your books on, but it doesn't cost that much effort to throw your efforts here.
This is a great place to post your book teasers, more quotes from your books, your book covers, writing space aesthetics and wallpapers.
When starting off, create a business account with Pinterest as you can monitor analytics and ads. Use Rich Pins to add links that go to the Book Page on your website or your reader magnet to maximize the pins posted.
If you're hosting any discounts, you should promote your books on Pinterest with an aesthetically pleasing picture to increase the likelihood of a purchase.
LinkedIn
LinkedIn is great for nonfiction authors to boost their authority and expertise.
You can post inspirational stories about your work and network with like-minded professionals that you can collaborate with when it comes to promoting your books.
YouTube
This is the Godfather of video content. Before Vine, Instagram and TikTok, there was YouTube.
YouTube has many formats for you to use like longer videos, YouTube Shorts, community section for posts and a streaming function.
Using YouTube to promote your books can be a hard, strategic decision to make. To truly succeed, you'll need to put a lot of time and effort into it.
To help you decide, we've listed some possible content you could try:
Make vlogs about your personal life or your writing life.
Make content about excerpts from your book (for example, how-to's, tips, etc.)
Upload your book trailer.
Offer author related services like marketing tips based on lessons you've learnt.
Q&A videos or live streams
Host live launch parties.
Review other authors' books.
Twitch
Twitch is for live streaming only, but it does it well. If your audience is younger and loves consuming the type of content that goes on this platform, it may be worth engaging with them here.
You can host live events like book readings or book anniversary parties, AMAs or other activities that would interest your audience.
For example, if you make LitRPG, you could stream yourself playing RPG video games. But there's more of a space for writers on Twitch than before!
This is also an intensive platform to promote your books on, so make sure it's the right fit for you first.
Discord
If you need a convenient place to communicate with your book promotion team, Discord may be the place for you.
You can create channels for different topics and easily join voice channels to have important discussions with your team.
If you have an amazing community of fans, you could even start a Discord channel dedicated to them. You can post updates about your books and interact with them in a unique way.
This type of community building is very different from others as this will target a very specific audience and interactions will be more personal and interesting.
Note: You don't have to be the one to monitor this community as Discord has a function where you have moderators handle the administrative work.
A case where this could work would be for an LitRPG author since Discord is big with video gamers.
Make Friends!
The best way to gain connections is to be a friend to others first. Start by promoting other author's books, sharing and liking their posts on social media or offering to be a beta reader (if you have the time).
Once the relationship is built, you can swap blogs with this author. This means you can guest post on their blog and vise versa. You'll be helping each other get in front of a different audience!
Find groups online or locally to a network of authors that support and help each other. When it comes time, they'll be more than ready to promote your book, because they're a friend.
Just remember to return the favor and support them as well.
How To Promote Books: The Final Chapter
The more effort you put in, the more you'll reap in sales. When you market your book, you're giving it every chance possible to be seen by people.
The amazing part is, once you're done putting energy into promoting the book, all of it will still be available years from now online for someone new to discover.
We understand that this is no small task. You're still an author at the end of the day. You don't have the time to only promote your books. You need to write them too.
For some of your book promotion efforts, paying someone else to deal with it is the way forward. Depending on your needs there are different services you can go to.
But we have 2 services you can scratch off your list now: author websites and paid advertising.
If those promotion techniques sound complicated to do, don't worry we've got you covered. Fill your details in this enquiry form and take the first big step in your book promotion journey.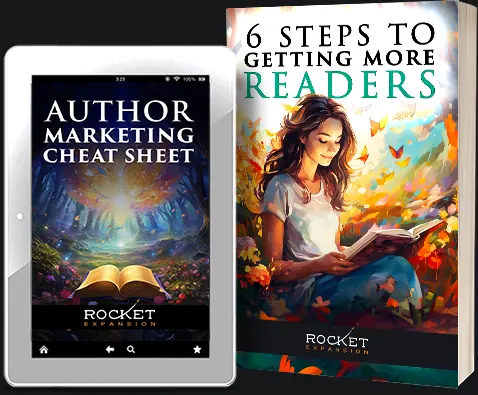 Want help with your author marketing? Get our FREE ebook and cheat sheet: 6 Steps To Getting More Readers.
By subscribing, you agree to get emails from me, Matt Ziranek. I'll respect your privacy and you can unsubscribe any time.