Blog Tours: The Complete Guide To Virtual Book Tour Success
With the book-selling world moving more and more online at a crazy rate, you don't want to get left using 20th-century tactics to promote your book.
This trend isn't going anywhere either. If anything, the move to promoting and selling online is only accelerating.
Blog tours, when done right, provide the publicity you would've gained with an in-person book tour without ever having to leave your home.
What is a blog tour?
A blog tour is similar to a book tour where authors would go to different book or coffee shops and speak about their books in order to promote them. The difference is that it's a completely online "tour" taking place on book promoter's blogs.
Note: although we're saying "blogs", this exact same strategy can apply to featuring on podcasts, YouTube channels, webinars, or any other type of online media.
During a virtual book tour, you find blogs with big followings of readers interested in your genre or niche. You then ask them for an opportunity to write about your new book.
This is a great marketing opportunity for authors to reach a larger audience than a traditional book tour would. It also generates links that send interested visitors to your own website.
A blog tour works well if you find the right blogs to be featured on.
There are agents who can help you to set up your blog tour, but if you'd prefer to put in the work yourself, it is simple enough to do on your own as well.
Do online book tours help promote your books?
Are blog tours actually effective? Do they actually work?
The short answer is yes they do.
Most established blogs have built up a decent size email list. Let's say minimally 10K subscribers, often way more.
Even if your blog post gets read by 20% of their email list (a fairly average open rate), that's thousands of readers who are newly exposed to your books. Multiply that by the number of blogs you tour on and you can see that reaching tens of thousands of engaged readers for free is not that hard to do!
So don't underestimate this marketing strategy. It can bring you and your book a lot of attention and publicity from an already engaged audience and ultimately help to sell your book.
Blog tours help you
Raise awareness
Get more book reviews
Get referral links to your website
Build relationships with book promoters
Raise awareness
Book blog tours are a great way to gain more exposure and raise awareness to potential readers.
Depending on the blog you tour on, you are getting attention from a much larger audience of new potential followers and readers.
Get you more book reviews
Getting a professional book review from a respected source shows other readers why they might enjoy your book and what is good about it.
This kind of review often convinces new readers to buy your book far more than an Amazon review because they've already come to trust the opinion of the blog they follow.
Getting referral links to your website
Another great and effective element of having a blog tour is getting referral links to your own author website.
Once they're on your site you can get them signed up for your free book offer and onto your mailing list and nurture them to become book buyers. Joining your mailing list should be the main purpose of your author website!
Google sees links to your site as votes of confidence. This helps your author SEO. By getting your book featured on a blog tour you will get links to your own website which will help you rank better on Google.
Build relationships with book promoters
Don't underestimate the power of who you know when it comes to marketing your book.
Some of the people you reach out to may have connections in tv, international conferences or conventions, big publishing houses, or other amazing platforms.
By putting yourself out there and offering upfront value to their audiences you could be taking the first meaningful step in a bigger marketing move for your books and author career.
How Does a Blog Tour Work?
When it comes to online book tours, much like a normal book tour, it takes planning and organization.
When you reach out to different websites and ask to be featured, some blog owners will ask for payment. I'd suggest declining these offers.
If they're only interested in your work to get paid to feature on their blog, they aren't going to be passionate about the content you're contributing either. They may not even promote it to their mailing list at all.
There are some sites (like BookBub) where paid promotion can be very effective. This is not the same thing though. Paying for advertising on a book promotion site is quite different from getting featured as a guest writer or featured guest on another blog.
During a blog tour, you may be given the opportunity to write guest posts and feature pieces for the blog's author to use. Other than that all you'll have to do is respond to comments (if asked to do) and thank the blog for allowing you to be featured.
It's usually also asked that you share the post on your own social channels and mailing list, but that's really up to you.
How to organize a blog tour
Find blog tour opportunities
Brainstorm ideas
Create blog content
Promote your blog content
Follow up on opportunities
Nurture your new audience
Finding online book tour opportunities
The first step to take when it comes to organizing a blog tour is preparing to reach out to all the blogs you'll feature on. Remember, you don't have to limit yourself to only blogs. Reach out to podcasts, YouTube channels, or any other media that make sense as well.
The first step to take is to research different blogs or media channels that fit the genre or subject of your book.
You can start this by doing a simple google search and see which blogs you like which fit your book.
List of virtual book tour opportunities
Here is a list of potential blogs to reach out to so you can get started. Note, some have more intense submission processes than others and may have changed since we posted this blog so check the guideline on each before you reach out.
Virtual book tour opportunity spreadsheet
Create a spreadsheet to track the blogs you want to reach out to. You can copy-paste this table right here below into a spreadsheet to get started. You'll obviously extend the rows to be a lot more than this!
Create different columns for:
the blog owner/editor's name
the website of the blog
the email address of who you're dealing with to pitch your idea
if they accepted or not
when you need to submit your blog post by
Example you can use:
| Name | Website | Email | Replied Y/N | Submission Deadline |
| --- | --- | --- | --- | --- |
| Jess Blake | website.com | jb@website.com | Y | 9 Aug |
| | | | | |
| | | | | |
| | | | | |
| | | | | |
copy-paste this table into your own spreadsheet to get started and customize it as needed
The researching part of the outreach is not something you should rush through.
Once you have found the blogs that you would like to reach out to, there are some things to look at on each website.
Things to keep in mind before reaching out are:
When was their last post
Do they have comments and likes on their posts
Are they active on social media
Have they got guest posts already
Do they say how big their mailing list is
The reason to keep these things in mind is that you want to have your books on blogs that have an active community otherwise the whole idea won't work.
The whole point is to get new people to discover your work, not just post content on a dead website or little-known platform.
Brainstorm ideas
Now that you have come up with a list of people to reach out to, it's time to brainstorm something to pitch to them.
When it comes to pitching a blog tour or a guest post it's important to make sure that the pitch has information in it that is personal to each blog so that the readers don't think it is just a spam email. Put an interesting and personal spin on your idea.
This is why the research part is so important. Find something you love about each blog and mention it.
Also mention how the guest post or tour could benefit the blog.
You can also pitch a couple of ideas you would like to write about if you want to give some options.
Create blog content
Now that you've reached out and pitched the ideas and they've been accepted, it's time to create the content.
When creating the content make sure that it is 100% original and written by you. Don't be boring or generic. Use your own voice and unique author brand. The whole point of this virtual book tour is for a new audience to get to know you and your books after all.
When reaching out to multiple blogs and writing on similar topics it's important to make sure that the content isn't identical.
You want to make sure that each piece truly adds value to the blog they're being sent to. You want to make sure you include links back to your website as well.
Promote your blog content
When it comes to promoting your blog tour it's a mutual effort between the host blog and yourself.
Some great ways to spread the word are :
Sharing on social media
Personally informing your top fans
Sharing to your mailing list
Creating a tour schedule on your website with links
Asking others to share the posts and links
Follow up on opportunities
So now that your tour is on the go or over, it is time to follow up with the blogs you toured on.
You should write a personal thank you to each blog for their support and allowing you to post, you can even mention that you would be open to posting again if you would be. This way doing your next blog tour when you launch your next book is much easier.
You also need to make sure that they have everything they need, such as the blog post itself and any books, prizes, giveaways, or any important element that could be included in your tour.
Nurture your new audience
Something authors often forget to do is realize that you've just gained new followers and email subscribers from your blog tour.
Make sure you use this momentum.
Nurture them with content on the channels they've followed you on. You want to give them opportunities to come closer to being a book buyer, reviewer, and referrer using your email list and other channels.
In this way, you get the most out of the gains you've just had on your blog tour.
Now that you know how to organize a stand-out blog tour, it's time to get started!
Get out there and paint the town red. I wish you luck and a ton of success for your online book tour.
Beyond the blog tour
Of course, blog touring is just one book marketing strategy.
Having a great author website that helps readers join your mailing list and go on to become book buyers should be in place before you start blog touring. That way you'll have a platform to grow your audience from all the new interest you get from the tour. Feel free to reach out to us if you need help with this. We're specialists in author website design services.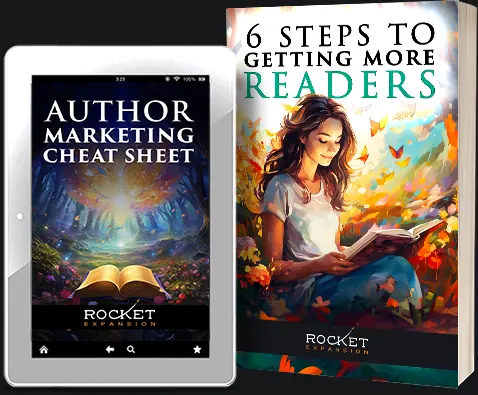 Want help with your author marketing? Get our FREE ebook and cheat sheet: 6 Steps To Getting More Readers.
By subscribing, you agree to get emails from me, Matt Ziranek. I'll respect your privacy and you can unsubscribe any time.