Email Marketing For Authors (Why, How, and Top Tips)
Why Does an Author Need an Email List?
83% of consumers prefer receiving brand communications via email.
This means that the best way for you to also communicate with your readers, especially if you want them to become loyal readers who will purchase your future books, would be by email.
Most if not all authors engage mainly with their readers on their social media platforms and create groups specifically for their fans. This allows you as an author to have a dedicated space where the subject of engagement is your books and other author-related content.
However, even though you can have your own community space, for example on Facebook, the space is not completely yours because someone on your community page easily gets distracted by other parts of Facebook such as Ads…
Or look puppies! I love puppies!
Yes, um, you get the idea.
So having a platform where you can get all the attention you need from your readers is important. Apart from your website, your newsletters can help achieve this.
What Are the Benefits of an Author Mailing List?
There are many benefits to having a mailing list to regularly keep in touch with readers especially as a newer author. Here are some of those benefits for you to consider:
Email is personal
Communicating with someone over email is more personal than any other form of online marketing. This is because you can personalize the emails that you send to your subscribers
Not only are you able to send readers broadcasts or automated emails, but you can make sequences that send emails based on their interaction with your website or main email campaigns.
And when necessary, you can also have one-on-one conversations with your readers. This allows you to have strong connections with readers which will be beneficial for you as an author who plans on writing more books.
Creates connections with your readers
You can use your newsletters to connect with your readers on a more personal level by sharing personal insights. Once you have developed that connection with your readers, it will be easier to get them to buy your upcoming books .
Cost-effective marketing
Your mailing list is like a pot of gold that can only multiply and produce better results with time.
Once you have the list, you have a way to directly communicate with the people on the list regarding various things, including promoting upcoming books, merchandise or even events you will be part of.
You can create email marketing campaigns at no cost additional cost. You can remarket and nurture customers that showed interest in your books but have not made a purchase.
Increases your credibility
As you regularly communicate with your readers and potential readers, you increase your credibility as they feel more familiar with you. If you have a payment portal on a website that features your books, someone who is not comfortable purchasing on your site becomes more comfortable with the idea of buying from you.
And if you communicate to the mailing list about your creative content, customers who weren't convinced whether they would enjoy reading your book become familiar with your writing. This can help improve your creative credibility.
Builds brand recognition
If a customer regularly receives your emails that include your distinctive author branding style (fonts, color, logo, etc.) they will be able to easily recognize your books from a distance.
This will be very beneficial for you because people more often than not buy things or from brands they are familiar with.
So the next time someone who is on your mailing list walks sees your book in a book store or on Amazon, they will definitely stop and consider buying your book simply because they recognize the author.
You can measure results
Using an email service provider to communicate with your mailing list will allow you to track the results over time. You can see how many people open your emails and click on the links you have provided in your emails (this would most likely be URL links to where your books can be bought).
You can get more granular reporting features depending on which email service provider you go for. Some of the recommended providers for authors are MailerLite, Mailchimp or ConvertKit.
So What Do You Put in Your Email Newsletters?
I know you might be wondering what in the world could you possibly write about in newsletters regularly. There's a lot that you can write… there's always going to be something that happens in your author world, so you can write about that.
That's why it's called a NEWS-letter!
Personal updates
If someone is only interested in buying your book, they would probably only do that and not subscribe to your newsletter. So if they do sign up, it shows that they want more from what you could offer.
They might want to know more about you as an author, what other books you have coming up, and any big milestones in your career or even personal life, if you are willing to share.
An update on your current project
If you are working on a new book, you could let your readers in on the process a little bit by giving them updates at different stages. For example, you can send a newsletter for a book cover reveal, send them your new book trailer, an excerpt of the book.
There are so many things that you can send to build up the hype for the book before it's released!
Upcoming author events
If you have upcoming book tours, you can send a newsletter in advance so that your readers can prepare and RSVP for the event. Or any other event you might be part of that might interest your readers.
But in wake of the pandemic, having in-person book tours can be a challenge. So you can have virtual book tours and send the details about this as well!
Feature one of your books
You can send an excerpt of one of your books to promote it more. It doesn't always have to be the new books that get promoted. Even your other books that did not get much attention can get a bit of promotional love and care.
You can make a newsletter that gives extra information about the storyline that's not entirely unpacked in the book.
Gifts and fun things
If you have a new book you are working on, you can gift your mailing list with a free chapter or two on your book. Or exclusive gifts only your mailing list can get, like character wallpapers.
Try something fun like quizzes on your books! And maybe if you are considering writing another book you can send a poll for inspiration on what your readers would like to read.
How To Make Your Newsletter Effective
Write to an "ideal reader"
Just like I'm doing now, I have an imaginary author in mind as I'm writing this blog. This helps you write like you are writing/speaking to an actual person. This is how you will come across as genuine.
For some reason, this can be tough at times because our brain tells us that "since you are writing an email, it needs to be all professional and all".
Having an ideal reader will help you write newsletters that are more personalized. This way people who receive the emails will feel like they are genuinely engaging with the author rather than just getting an automated email.
Make it readable
You can make your newsletter readable by following the previous step. But what exactly do I mean by make it readable?
This means that when someone reads it, they must be able to understand what you are saying and the purpose of the email without having to decipher and read between lines.
You don't have to use technical jargon that most people won't understand. Unless you are using the language/words from your book. But don't do this too much because you will have subscribers who haven't read your books yet.
Send test emails
Send yourself a test email to see what the newsletter will look like when it gets to your subscribers. Go over the email and make sure there are no mistakes and incorrect links.
The email must look like time was put into writing and sending the newsletter. But this doesn't mean it should look like a whole poster, it can be simple. In fact, sometimes it's better when it's simple because the point of the newsletter won't be lost in all the extra things.
We're Here To Help
Now that you know all about the benefits of having an email list, you are probably wondering how to go about it. There are a ton of great author marketing services available online. We specialize in website design services for authors that make your author brand shine more brightly.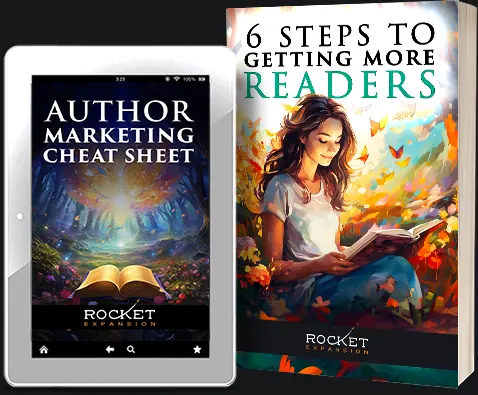 Want help with your author marketing? Get our FREE ebook and cheat sheet: 6 Steps To Getting More Readers.
By subscribing, you agree to get emails from me, Matt Ziranek. I'll respect your privacy and you can unsubscribe any time.