How To Write A Book Press Release (That Gets Results)
There are a lot of authors that wish book promotion was less intensive and all-round easier. But the truth is, to have anything good, you have to work for it.
To have your books sell out and hit the bestseller charts, you must put in a lot of effort. Obviously, a well-written book would be step one on the list, but the rest of the steps that follow are all to do with marketing and all the thought-out strategies that come with it.
Coverage is the most important thing outside of writing a captivating book. How will your book sell if no one knows about it?
An old and tried formula that still works to this day, is a book press release. It may sound like PR lingo, but boy can it work!
We're going to cover the ins and outs of making a stand-out press release for a book, including steps, tips and even a template for you to use in your own press release for book launch.
What is a Book Press Release
A book press release is a free marketing tactic used to formally announce your book's release to media organizations. It's used to maximize awareness of your book by showcasing it to influential people for them to share with their audiences.
Book press releases can be seen as an older way of book promotion strategies, but they've evolved in their execution over time.
Before, journalists would have a small section in a newspaper to fill out and your book may not make the cut. Nowadays, there's infinite space on the internet to share the news of your book.
Space isn't really the issue, the entertainment factor is. Your goal is to write a seriously engaging press release that explains exactly why your book is newsworthy and worth talking about.
Journalists, influencers and bloggers need to produce content, you just need to make your book's announcement entertaining enough for them to share.
Do Authors Need Book Press Releases?
When deciding on if you want to do a book press release, you need to consider all your other marketing efforts. For your book's release, you should have a planned-out marketing strategy that could involve:
If you have a few of these strategies already lined up, a press release isn't necessarily a must.
If you're a big-name author like Margaret Atwood or Stephen King, then you don't need to know how to do a press release. Media personalities and journalists would already be interested in covering your book.
And you probably have someone else doing that for you anyways.
But you're probably not Margaret or Stephen. Having all the relevant information for the book and the author on one page can only be beneficial to your book marketing efforts.
You just need to decide if it's worth the effort involved in planning, creation and distribution.
Benefits of a Book Press Release
If there are other book marketing strategies for you to use as an author, why bother with a book press release?
Below are some of the reasons why this tool works:
Little to no cost: If you opt to do this on your own or ask your existing publicist to help, a book press release is free of cost.
You're in control: With a book press release, you get to frame your story and how you want it to be spoken about in the media
Supercharge your other efforts: This can boost your other promotional efforts by increasing brand awareness in front of new audiences.
Media Opportunities: A brilliant book press release could lead to interviews, more book reviews, articles about your book and speaking engagements
Traffic: With more coverage comes the best type of traffic: website traffic; which means more email sign-ups and a larger audience to market future books to
What makes a book press release relevant in 2023 is housing it online on your author website. Here are more benefits by using your book press release to broaden your online presence:
SEO Optimization: By using carefully selected keywords to add in your book press release, any reader searching for those terms are more likely to find your book
Centralized location: You can add links to your press release that all lead back to your author website, making for a clean organization of your media assets
Adaptable: Storing your press release online enables you to be flexible with any changes and further promotion opportunities that can happen months or years after launch date.
How To Plan A Press Release For A Book
To help you decide whether a book press release is for you, we're going to go over the planning stages next.
The plan is as important as the press release itself because you could risk putting in effort to only receive a low payoff.
Target Audience
The first step to making a book press release that stands out is to figure out who your target audience is.
As an author, you already know who you're writing for. However, in the book marketing phase, you need to know where your target audience is online and what and who they're interested in.
Your genre impacts the types of media your audience consumes. For example, if you're a nonfiction business author, you may find your audience on LinkedIn or subscribed to business magazines and blogs.
But if you're a Romance Author, your audience may be found on Instagram, following their favorite Bookstagram influencers.
In either case, take note of your reader demographic and research where those groups are and you're one step closer to a well targeted book press release.
Pick The Right Distributions
Now, you know where your target readers hang out…but how do you get the news of your book to them?
You may be thinking we're a few steps further in the process since we didn't even discuss the actual book press release yet. But, there's some method to this madness.
You can't write your book press release without knowing who you're sending it to. This is not your general bio on your author website or your Facebook Author Page profile.
Who you send this to impacts the way it's written. You need to research the journalists and influencers too.
Keep in mind the below researching points when finding out more about your distribution targets:
Their Schedule
Some journalists have editorial calendars, and media influencers (although they may seem less structured) have content calendars too. That's not to say they broadcast their schedules to the world, but with research you can track their patterns for posting content.
Besides considering your timelines, you need to consider theirs. Depending on their status in the industry, you may need to send it more in advance to account for how busy they are.
Type of Content
Find out if the journalists or influencers have covered similar books in the past or topics surrounding your book's themes. This will help you decide if they are prime targets for your book press release.
Their usual type of content should impact how you write your book press release as you need to make it as easy as possible for them to discuss your book without too much work on their end.
You may be thinking, "Why do I have to do all their work for them?"
In truth, it is their job to produce content, but when they cover books they use the press releases as a foundation to what they write or say. You don't want to give them extra work to showcase your book, making them less likely to cover it at all.
Their Audience
Your book press release needs to be angled towards their audience. You need to prove to the journalists and influencers that this book will be of interest to their audience.
Use words that will resonate with the target audience and showcase the value they would get from reading your book.
You don't want the journalists and influencers to be scratching their heads, wondering how they would sell this to their audience. You need to make it as clear as day that your book is highly marketable to their people.
The More the Merrier
There's a lot of considerations to making a book press release that stands out, which can make one wonder, "How do I make this appealing to everyone on my distribution list?"
That's why you should opt to write more than one press release for your book.
You can't hit all the right points in a 500-word, one page document. So, you shouldn't try to. Write one for each of the types of journalists and media personalities on your list.
This way, you know that you're giving your book every chance to be covered by the media.
Timing is everything
Take time to consider when your book will be the most relevant to the public's eye.
If it's a book about a family's experiences during Christmas, you shouldn't be trying to promote it in June.
And you shouldn't send it on December 25th either. Not only would that be missing the deadline, it's just downright inconsiderate.
You need to hook people in with your book press release, so you should consider sending it out when it would spark the most interest.
Use the below points to research and coordinate your timing for your book press release:
Time of the year: Does your book relate to a season, holiday or event? Like a thriller book near Halloween.
Worldly events: Does your book relate to any news topics around politics, sports, or entertainment? For example, a sports book released during the world cup for that sport.
Online trends: Does your book have topics that link to trends on social media? For example, a book released about the negative aspects of social media, piggybacking off of a popular documentary on social media.
There may be other points to consider based on the individuality of your book, for example maybe you'd like to launch your book about your business close to the anniversary of when it was established.
Use What Makes Your Book Unique
To make a book press release stand out you need to include points that express what makes your book unique.
Take a look at these points to see what you can add:
A book award: If you've ever been nominated or won a book award, be sure to mention it. It will go a long way to boost your author brand.
Unique author/organization: If you or your organization has a unique story or expertise that adds to the experience of reading the book, definitely include it to give context.
Professional book review: Include any stellar book reviews from well-known personalities or organizations.
Endorsements: If a notable figure has put their stamp of approval on your book, you need to highlight it because it will grab your target audience's attention immediately.
At the end of the day, it's still a book! So, you also need to promote what you've written.
For fiction, try to give an indication of what type of emotions or experiences they'll get from reading your book. Here's an example that does this well, from Never Let Me Go by Kazuo Ishiguro:
"Never Let Me Go breaks through the boundaries of the literary novel. It is a gripping mystery, a beautiful love story, and also a scathing critique of human arrogance and a moral examination of how we treat the vulnerable and different in our society."
For nonfiction, you could try to showcase some tips or show what kind of outcomes or personal rewards they can get from reading your book. For example, Wolfish by Erica Berry
"Perfect for readers of cultural criticism, environmental writing, Rebecca Solnit, H is for Hawk, or anybody trying to navigate a world that is often scary. A timely and necessary book for current and future generations."
How Long Should Your Book Press Release Be?
A good book press release gets to the point and does not overstay its welcome. You have to respect the time of the journalists, bloggers and influencers.
Be sure to limit it to one page and keep the word count between 300-500 words. Keep it short and sweet!
How To Write A Press Release For A Book
Now we're here at the juicy bits! The main attraction: actually writing the book press release.
There's a fine line to balance. You need to provide key information about the book and yourself as well as tell people exactly why your book is worth reading. We're going to show you how that will be handled.
But remember to write all of this in third person as this sounds the most professional.
Contact Info
Whoever you send this to needs to be able to contact you and make it easy for their audience to find you online. Add the below information:
Email address
Phone Number
Social Media handles that you use often
Links to review copies of your book
Dates and Locations
This information should be in all caps:
Date of book release: You need to specify if it is 'For Immediate Release' or 'For Release (specific date)'
Location: The State and city you reside in
Headline and Subheading
Look at this like you would any news article headline. It needs to be short, catchy and make you want to read more. You need to grab attention with this line.
Use a maximum of 20 words to write something intriguing and unique. Time to be extraordinary and sensational!
You can look at headlines of topics related to your book to see what would draw attention.
A subheading is optional but if you want to have one, use it to support the headline and give the audience more context on your book.
Body
This should be 3 sections tops:
Paragraph 1: Introduction
This is your second chance to hook the reader so be sure to make a big impact line that doesn't beat around the bush.
For fiction you can use the main plotline's conflict as the hook. For nonfiction you can use a problem and solution format.
Paragraph 2: Book Information
You can get more detailed here with the explanation of your book.
This should be the equivalent of an elevator pitch. Summarize your book by showing what it's about, what's unique and highlight why the reader would want to read it.
Paragraph 3: Quotes
This is where you add your book reviews and endorsements to really seal the deal. Use quotes that pack a punch.
The best ones to add are by those in the industry that are respected and will turn heads.
Photos and links
Include links to where people can buy your books and photos of your book covers and any banners that add value to your book press release.
Any links to interviews, headshots or sample content for your books can be added here.
Boilerplate/Author Bios
Here is where you give details about your background, the number of books you've written, and anything that backs up your expertise and skills like education, experience and awards won.
You should also add information about yourself that helps readers connect with you on a personal level.
There's a lot you could add here but make sure to keep it concise and powerful.
CTA
We humans need to be told what to do after we're done reading. Add a call-to-action at the end that's urgent and direct.
Tell the reader what you want from them. This could be for them to write an article or blog about your book, talk about it in a YouTube Video, attend your book signing event, do an interview with you, etc.
Book Press Release Template
You can download this Book Press Release Template and get started!
How Do You Distribute Your Book Press Release?
It can be intimidating when thinking of how exactly you're going to get this book press release out there. There are a few ways you can do it.
Syndication Services
You can pick a press release distribution service to help you get your book press release sent to a multitude of media sources.
Most of these services cost money and you'd need to do more research to make sure their services and features will help you achieve your goal.
Note: It is still up to the syndication site whether they accept your book press release to distribute.
Do it Yourself
You could also just distribute it yourself because handpicking your media outlets can get your book in front of niche audiences that would be more likely to buy your book.
All you need to do is send cold emails to journalists, influencers and bloggers with your book press release and copy of your book.
First you need to get their contact details via their websites (you can use email finders to scrape the websites for details). Some websites may have an area for such submissions, so use those if directed to via their rules.
Next, when drafting your cold emails, make sure to use an attention-grabbing subject line that states clearly that you're sending a book press release.
Hire someone
You can hire a Public Relations specialist to help you write and send out your book press release. Since they're specialists, they'd probably have connections in the industry and would be able to get some guaranteed spots for your book press release.
Beyond the Book Press Release
Using a book press release does not guarantee that you'll sell more books, but if you combine it with your other book promotion efforts, you should definitely reap some rewards.
Working smart and not hard is the key to increasing book sales, and the smartest strategy you could have as an author is to take advantage of the online space.
It may seem tiresome to always be online, building your author platform and trying to increase brand awareness. It is a lot of work, and your book press release and social media presence will aid you here.
But there is a way to have a permanent presence online without posting on Twitter multiple times a day.
Your author website! You can host your author blog, your reader magnet and all of your books and extra content to connect with your fans and attract more readers.
We believe in this author marketing strategy so much that we've dedicated our lives to building it for authors exclusively.
Fill in this enquiry form and we'll be glad to help you on your author journey.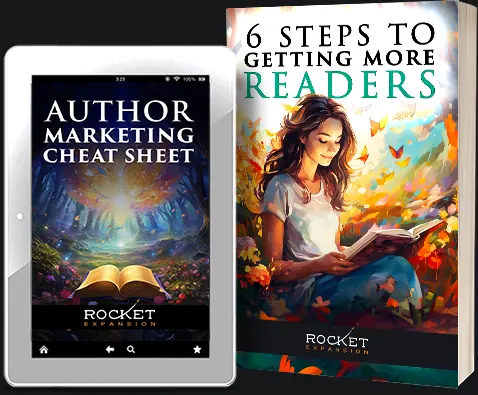 Want help with your author marketing? Get our FREE ebook and cheat sheet: 6 Steps To Getting More Readers.
By subscribing, you agree to get emails from me, Matt Ziranek. I'll respect your privacy and you can unsubscribe any time.