23 Suspenseful Thriller Author Websites
Are you tired of plain and boring thriller author websites?
Are you looking for something suspenseful that keeps you on the edge of your seat?
Or maybe you're just looking for some ideas for your thriller author website?
Well here is a list of the 23 best thriller author websites we could find.
James Patterson
James Patterson's website offers great use of clear imagery and a good lead magnet for his mailing list.
When you arrive on Jame's website there is a clear indication that he wants you to sign up for his newsletter, by having you sign up right at the bottom of the opening image in a bold color.
What is enticing about his newsletter is that he offers: news, free chapters, and more if you sign up.
Tim Sullivan
We wanted to build Tim Sullivan a thriller author website that thrill-seekers will love.
The home page is striking with eerie images that could make your hair on your neck standing! This website is not for the feint hearted.
The atmosphere is aptly set with the vibrant colors that contrast with the black layouts and the bold, clear fonts. This entices readers seeking a suspense novel they can't put down.
A simple yet effective menu design does well not to distract from the main attractions.
Dan Brown
Dan Brown's website manages to make simple look amazing. 
He uses good color contrast and easy-to-read fonts.
When you enter the site the dark background with yellow elements and writing gets your attention, along with quotes and images from his books and films.
Michael Connelly
Michael Connelly's website uses the "extras" tab to its full potential.
In this tab, he includes Photos, Music, videos and so much more.
He also uses strong color contrasts on his homepage with a plain white background and bright book covers.
Ruth Ware
Ruth's website has an effective call to action to buy or learn more about her books.
When you arrive on her website you are greeted with bold text next to two striking book covers, with a small amount of information and a read more button.
This shows that Ruth's main idea behind her website is for people to buy her books, by clicking the read more button she takes you to a page with the option to order the books.
Ruth also offers readers the chance to get a free short story and other benefits if they sign up for her book club which is essentially her mailing list.
Tess Gerritsen
Tess Gerritsen's website uses an effective book display as her homepage.
Tess's home page has all of her books on rotation slider with different backgrounds with good contrasting colors for each.
Next to each book there is a review of the book by authors and established critics.
Paula Hawkins
Paula Hawkins's website shows how powerful a good call to action can be.
She uses bold and striking book covers next to her CTA to get the attention of the reader and make them more interested in pre-ordering the books.
Her whole homepage is filled with different calls to action for each of her books, all with the same enticing style that catches your eye.
Kathy Reichs
Kathy Reichs' website is true to the genre with dark and eerie backgrounds and a font to match.
The most interesting feature on her website is her "Videos" tab and her "News and Blog" tab.
In the "videos" section she offers interviews she has done for different news outlets and in her "News and Blog" section she gives up-to-date information about what she is up to and when and where people can meet her.
Peter James
Peter James allows readers and fans of him to get signed and dedicated copies of his book.
This is a great idea as it could make for a memorable gift for someone and also in a way allows him to see where his readers are from.
Stephan King
Stephen King's website is an example of how simple color contrasts like black and white can be a powerful tool on your website.
King's website uses a basic white background with a bold font and black writing. The color comes in on his slider images below the fold. Even then he chooses to use simple but bold colors.
He also puts all his book release dates on his slider images showing the readers important information so they don't have to go searching for it.
Rachel Caine
Rachel's website displays beautiful imagery and design that fits in perfectly with the theme of her books.
The opening image on her homepage is eye-catching and uses gentle colors and bold fonts to show you where you are.
Riley Sager
Riley's website makes it obvious what he wants from you, to pre-order his new book.
He has the book displayed in the foreground on the homepage and it's the first thing you see as you enter the website.
He also uses great background colors and imagery for his website, making it noticeable but not taking away from the book cover that he is trying to sell.
Jessica Knoll
Jessica's stand-out website feature is the free audio samples of her books.
She offers 4 free excerpts from the different main characters of her new book.
The aim of this is to hopefully get readers interested enough to buy the book after listening to the free samples which is a great way to market as people always want to find out more.
Jessica also includes an enticing book trailer.
Sally Hepworth
The thing that makes Sally Hepworth's website stand out is her "for book clubs" tab.
Here she explains that she will be a part of one of your book club meetings, via zoom, for free (on account that at least 8people in the book club have purchased a copy of her book, either online or a physical book).
This is an awesome idea as it allows people to get answers directly from her and find out what inspired her to write the book.
Paula McLain
Book trailers and photos are a great tool that Paula Mclain makes use of.
This is a great marketing strategy as it gives buyers a visual representation of the book and places and characters within the book
Paula uses book trailers for some of her books and photos for all of them and makes them easily available on her website for the readers.
Sarah Pearse
Sarah Pearse uniquely features two different versions of her cover art, one from the UK and one from the US.
This is something that not many authors think to do when making their book display and something I think should be done more.
Another feature of Sarah's website is that she allows readers to read an excerpt of her book.
This is a great marketing strategy as this gets readers interested enough to want to know what happens next.
Allie Reynolds
Much like Sally Hepworth, Allie Reynolds also has a focus on book clubs but in a much different way.
Allie allows for readers to download her "Book Club Kit" which includes character descriptions and her writing process.
The thing that makes this different to Sally Hepworth other than the fact that it is not via zoom is also that the kit is available year-round and not just for the first couple months after the release of the book.
The PDF is also a free download and easily accessible for everyone.
Karen Hamilton
Karen Hamilton uses simple but captivating colors and images to get the attention of readers.
Her homepage features the title of her new book in a striking font in front of an airplane window.
This image is enticing enough to want readers to click the read more button to find out why this particular image was chosen.
JD Robb
JD Robb has an amazing lead magnet for her mailing list. She offers you the opportunity to "get free stuff".
If you send in a request and an envelope to her you will receive either a JD Robb calendar magnet or bookmark. The catch is, you will be added to the mailing list for 5 years.
This is an amazing idea as she gets something free in return for giving away something. This no doubt has given her a large mailing list.
Jesse Q Sutanto
Another author who uses a great lead magnet for their mailing list is Jesse Q Sutanto.
When you go to the website there is a tab titled "Free Story!" This is Jesse's lead magnet.
As soon as this is clicked you get redirected to the mailing list signup where you're promised a free story soon after you sign up as well as other great benefits for being on the mailing list, such as exclusive content and behind the scene.
This is a great lead magnet as avid readers of Jesse's would love to get a free "unpublished" story of hers.
Mark Greaney
In his "Gray Man World" tab readers can find extensive amounts of research about different aspects of the books, such as the enemies (which includes real stories from each country), different firearms that the characters used, and behind the book research that Mark did including images and stories of his travels.
This is a great tactic if you have a book series as it gives readers an inside into the world of the story and makes them even more interested in the books.
Harriet Tyce
It's not often that a bestselling author is willing to help people write their novels, but that's what makes Harriet's website so unique.
She offers to tutor and help people complete their thriller, mystery, or crime novels. This feature is extremely rare to find but also something readers and up-and-coming authors are always asking for.
Your Thriller Author Website
Are you looking to make a thriller author website design that will keep people on the edge of their seats? Maybe you want a website worthy of being added to this list…
Well, we're here to help! Reach out to us and we can make this happen.
We also suggest that you take a look at our author bio tips so that you can make a quality author about page!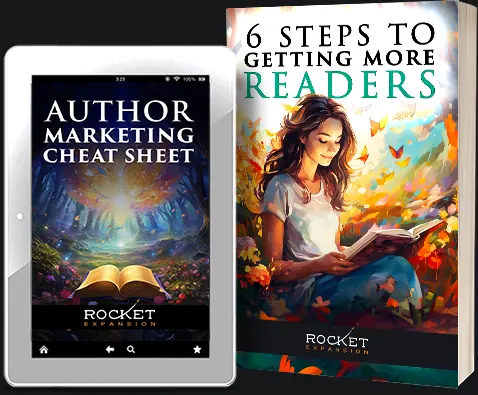 Want help with your author marketing? Get our FREE ebook and cheat sheet: 6 Steps To Getting More Readers.
By subscribing, you agree to get emails from me, Matt Ziranek. I'll respect your privacy and you can unsubscribe any time.