Want help with your author marketing? Get our FREE ebook and cheat sheet: 6 Steps To Getting More Readers.
By subscribing, you agree to get emails from me, Matt Ziranek. I'll respect your privacy and you can unsubscribe any time.
Why your cover art matters
The old saying "don't judge a book by its cover" does not apply to actual books! Everybody judges a book by its cover.
Book cover art is one of the most crucial aspects of marketing your book. It is the first thing people see after all.
The cover is what attracts the buyer to the book. It makes it stand out among the mundane books on the shelf and it adds an extra layer to the buyer's experience. I mean who doesn't want to carry around a pretty book?
Note, if your book cover doesn't look like any effort has been put into it, it sends a message to the buyer that the writing may not have effort put into it either.
How do you make great book cover art?
Entice engagement
Create strong contrast
Use striking imagery
Use great typography
Nail the genre
When thinking about your book cover art, keep these in mind to make a beautiful cover that draws buyers in.
Entice engagement
The main point of a book cover is to entice engagement, get people interested, and make them read the blurb. The blurb is then what sells the book.
In our above showcase, I've put books that are personally engaging to me, and that makes me want to know more. The next few points will go over exactly how to do this.
Create strong contrast
A strong contrast is one of the most important things you could have on your cover for 2 main reasons…
Firstly, when a buyer picks up a book they want to be able to read what the title is. You don't want your title to disappear into the background because the colors are too similar. Contrast is key when it comes to letters and backgrounds.
Secondly, you want your cover to be different and stand out from the rest. You want a strong contrast from the other books on the shelf, something that is attention-grabbing and pulls buyers in.
Color plays an important role in creating contrast with a striking but complementary color palette. Bright colors will grab attention and have people engaging with a book at first glance.
In the example above, the artist has exaggerated the darks and lights in the splash, crown, and water details to really make them stand out.
"The Wicked King" is written in dark on a light background with an extra gold border to ensure it pops above the background.
On the darker background, at the bottom, a light text is used for the author's name.
These are all very intentional, intelligent decisions made by the cover artist. They ensure the cover is instantly understandable to the viewer.
Use striking imagery
Striking imagery catches buyers' attention. Think about it, when you're in a book shop how often are you drawn to a book that has a plain cover with no images or contrast?
Personally, if I'm just browsing in a book shop looking for something new online I'm attracted to the books that have attention-grabbing images, graphics, or text. I look for something that stands out from the others and makes me think "What is that book about?" or " WOW, the graphics on that book are so exciting I want to know more!"
Stock images are often used however, they are manipulated to be incorporated into a scene to create a cohesive and striking cover. This is an easy way of creating the perfect scene with the exact image needed.
Typography (text and fonts) can make or break your cover
When choosing a font for your book cover, rather go for something that is easy to read and doesn't confuse people too much. Typography is something that could make or break the design.
Your book font should relate to the genre and/or the topic discussed.
For example, you don't want to write a horror novel and then have your audience think it's a romance based on the font and typography of the cover.
Different fonts make people feel different things and trigger different emotions. Use the right fonts to trigger the right emotions.
Nail the genre
As we know, personal preference plays a big role in determining what we read – and this can be true for the covers that we are drawn to as well.
Readers are most likely to buy a book and be attracted to book covers based on the genres they enjoy reading, so if your book cover doesn't match the genre of your book you may risk losing a potential reader.
When thinking about how to design the right cover for your genre, you need to take a look at the other books within the genre as well.
Look and see which are your genre's best sellers and what their covers look like. You'll notice that there are definite trends in your book's genre.
For example, non-fiction covers often have less imagery and strong bold text. Fantasy covers generally either focus on a strong central character or a very atmospheric scene. You'll also notice different types of font choices for different genres.
Create a cover that is striking, high contrast, and original, while still staying within the main cover trends in your genre.
Does cover art help book sales?
You may be thinking that your cover doesn't make an impact on your sales, but the truth is, it does. Having custom covers can set apart your books from the rest of the options on the shelf and help them stand out.
Research shows that the covers dramatically influence sales:
Reedsy had 4 covers by Indie authors professionally redesigned and tested the results. On average, the professional covers were clicked on 35% more often than the original ones.
Creativindie also did a similar experiment redesigning book covers. They learned that as long as the book pages are already getting some traffic, an improved cover can make a massive difference in sales. Sometimes over 150% increase.
The Creative Penn used split-image testing to see what buyers would be more attracted to. They found books with fun and creative covers sold better. Once again proving that a good cover makes an impact.
How to make your own book cover art (and should you)?
When it comes to book cover design, I strongly disagree with making your own.
Excellent design skills take people years to develop (sometimes a lifetime) and, as we have discussed, a well-designed cover makes a huge difference. So, if you care about book sales, this should be left to the professionals.
The only case in which I would suggest doing your own cover is if you happen to also be a skilled designer yourself.
If you're just experimenting and not aiming at a professional result you can try your hand using DIY cover design tools. For example, Canva has some amazing templates that can guide you to making a great and enticing cover, and it's free!
I wouldn't recommend this as a final cover if you're trying to go big, but it's a good start and can help you give your ideas in a more complete form to a professional cover designer.
Some designers offer templates for their specific genres that are affordable (much cheaper than hiring a designer) however this could cause your book cover to look very similar to some of the others within your genre.
This leads to our next obvious question…
Where to get book cover art?
Best cover art designers
Having custom covers can set apart your books from the rest of the options on the shelf and help them stand out. Here is a list of some of our favorite book cover designers (in no specific order). Some have added a personal note about themselves and their services. Click on each to get more info and the link to contact them.
When it's time to change your book cover art
Why change your book cover?
One of the biggest reasons is to keep up to date with the trends and ever-changing world around us.
Another great reason is to attract a new generation of readers to your novels.
And, of course, it's an easy way to increase your book sales.
So when is it time to change your book cover art? Well, there are a few factors you should take into account first.
Firstly, how long ago did you publish the book? Is it up to date with the current trends of the genre? Does it even fit the genre in the first place?
Secondly, is it attracting attention? Does it have a strong contrast, striking imagery, great typography, and is it enticing engagement?
Thirdly, is it making sales? Are people interested enough in the cover to want to pick up the book and buy it?
If not, maybe it's time to reconsider your cover art. Having an exquisite cover can change the game entirely!
Beyond the book cover, building your online presence
A memorable cover is an essential tool in marketing your book.
Another powerful marketing tool is your author website. Getting a professional author website design will enable you to grow your mailing list and establish your online presence as an author worth reading. Feel free to reach out to us to discuss your website needs.
If you're looking for examples of other great author websites, be sure to check out our mega author websites guide.
If you already have a great author website but you're struggling with your author bio, be sure to check out our author bio examples and writing guide.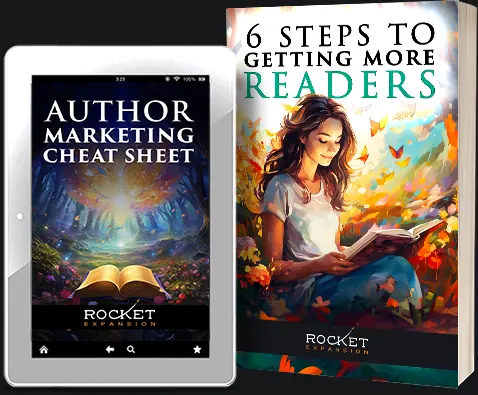 Want help with your author marketing? Get our FREE ebook and cheat sheet: 6 Steps To Getting More Readers.
By subscribing, you agree to get emails from me, Matt Ziranek. I'll respect your privacy and you can unsubscribe any time.