Engaging "About The Author" Examples (& How to Write Yours)
Writing the perfect about page gives your readers an idea of exactly who is the source of your work. It seems like an easy enough challenge… until we try to make it interesting enough for someone to actually read!
Your about page is going to feature on your author website, inside your books, on your social profiles, and anywhere else your audience asks the burning question, "who is the creative genius behind this book?"
Apart from just letting readers know who you are, it's also an important tool to frame you as someone whose books are worth buying.
How to write an "about the author" page
There's no set rule on how to write your "about the author" page. Some people find writing about themselves awkward. But if you start off knowing what tone you want to use and what kind of information to include, you've already won half the battle.
We've put together some guidelines which will make it easier for you. We've added examples in each section so you can see exactly what we're talking about!
The tone you use to write your author bio should reflect the type of writing you do.
If you're a business consultant, you want to come across as a credible and trustworthy source of business-related information. You might want to use a more formal tone. Cracking jokes or referring to your childhood desire to become a unicorn may have the opposite effect.
The bio of a young adult fantasy author will look very different to that of a business consultant. Here you want to give the reader a taste of the type of writing they can expect from the book. In this case, it's perfectly fine to allude to magic and mysticism.
Similarly, the author of children's books will want their bio to reflect the type of fun that youngsters will experience in their book. As you can imagine, writing this kind of bio in the tone of a business consultant is unlikely to help your sales.
Most author bios are written in the third person depending on where it will be used.
Here are some examples of different author bio styles and why they work.
Davis Ashura
"Davis Ashura is an author of such sublime depth and beauty that his works have been known to cause a tear to fall from the eyes of even the hardest of hearts.
Just kidding.
But he does write. This humble writer, who refers to himself in the third person, resides in North Carolina, sharing a house with his magnificent wife who somehow overlooked Davis' eccentricities and married him anyway. As proper recompense for her sacrifice, Davis then unwittingly turned his magnificent wife into a nerd-girl. To her sad and utter humiliation, she knows exactly what is meant by 'Kronos'."
Davis Ashura's bio is the perfect mix of humor and mythical references. He cleverly turns everyday details about his life and family into a fantasy story. A reader gets a good idea of his style of writing.
Referring to Kronos, a god from Greek mythology, further cements his place in the world of fantasy.
Tim Ferriss
"Tim Ferriss has been listed as one of Fast Company's "Most Innovative Business People" and one of Fortune's "40 under 40." He is an early-stage technology investor/advisor (Uber, Facebook, Shopify, Duolingo, Alibaba, and 50+ others) and the author of five #1 New York Times and Wall Street Journal bestsellers, including The 4-Hour Workweek and Tools of Titans: The Tactics, Routines, and Habits of Billionaires, Icons, and World-Class Performers. The Observer and other media have called Tim "the Oprah of audio" due to the influence of The Tim Ferriss Show podcast, which is the first business/interview podcast to exceed 100 million downloads. It has now exceeded 500 million downloads."
Tim Ferriss writes about business. In stark contrast to the previous author's bio, this bio dives straight into the credentials that qualify Ferriss to give business advice. The bio is, excuse the pun, all business, and after reading it you'll probably be convinced that this is the guy to follow if you want business success.
Open with a one-liner
Keep in mind the most important aspect of any truly great story: It's actually about your reader.
Great writing entertains, educates, moves us. Your author bio doesn't violate the basic idea that you are writing for your readers.
Your one-liner is the showstopper of your bio. If the reader doesn't read any further, it shouldn't matter. It must, in a nutshell, introduce you and your work.
The first line of your about section can also be used as a standalone bio for your social media profiles. Make sure it's punchy enough to lure readers in as-is.
Here are some of our favorite one-liners.
Glynnis Campbell
"I'm a USA Today bestselling author of swashbuckling action-adventure romance."
We love this short, descriptive opening line for Glynnis Campbell's author bio. It gives a nod to her credentials as a bestselling author and perfectly pinpoints the genres she covers. Who can resist reading something by someone who uses the word "swashbuckling"?
Daniel Gibbs
"Daniel Gibbs is a recovering computer engineer."
While this opening line doesn't tell you anything about what Daniel Gibbs writes, it's catchy and piques the reader's interest. It won't necessarily work as a standalone bio, but it makes you want to read the rest of his about the author section.
Michael C. Grumley
"For years, Michael Grumley dreamed of writing thrillers the way he thought they should be written: complex, multi-genre stories with unique plots that 'move'."
In this slightly cheeky opening line, Michael Grumley tells you exactly what to expect if you read one of his thrillers.
Come Across As a Credible Source
Why should your readers trust that your book of business or self-help tips is any good? How can you guarantee that you aren't a completely boring fiction author?
Putting your credentials in your bio gives readers the evidence they need to believe that your work is probably worth reading. This could include your experience, awards won, or other significant recognition or endorsements you've received.
Be sure to only list the credentials that are most applicable to your book or genre. You don't need to mention that you're an award-winning children's book author on the dust cover of your thriller.
If you're a non-fiction author, establishing your credibility in your field is more important than trying to be quirky or overly creative in your bio.
Here are some examples.
Alex Ross
"Alex Ross, music critic for The New Yorker, is the recipient of numerous awards for his work, including two ASCAP Deems Taylor Awards for music criticism, a Holtzbrinck Fellowship at the American Academy in Berlin, a Fleck Fellowship from the Banff Center, and a Letter of Distinction from the American Music Center for significant contributions to the field of contemporary music. The Rest is Noise is his first book."
Alex Ross lists his credentials on the dust cover of his book about 20th-century classical music. Given that it's non-fiction, as well as the author's first book, he does well at listing evidence of his expertise in the field.
April White
"April White has been a film producer, private investigator, bouncer, teacher, and screenwriter. She has climbed in the Himalayas, lived on a gold mine in the Yukon, and survived a shipwreck."
Fantasy author April Whites's bio doesn't immediately list any awards or accolades. But it doesn't have to. Who wouldn't want to read a book written by someone who's survived a shipwreck and worked as a private investigator?
White uses her life experience to establish herself as an author who is worth reading.
Tell Your Story
As writers, we've mastered the art of storytelling. Don't forget this powerful recipe in writing an engaging bio.
Pull your readers along your storyline to show them exactly how you arrived at being the perfect writer of "insert your genre/niche" books.
Take a look at these examples:
Mike Michalowicz
"By his 35th birthday, Mike Michalowicz (pronounced mi-'kal-o-wits) had founded and sold two multi-million dollar companies. Confident that he had the formula to success, he became a small business angel investor… and proceeded to lose his entire fortune. Then he started all over again, driven to find better ways to grow healthy, strong companies. Mike has devoted his life to the research and delivery of innovative, impactful entrepreneurial strategies to you.
This brilliant bio by business writer Mike Michalowicz tells a story. He weaves his life experience and achievements to create credibility and authenticity.
Showing us both his highs and his lows give you the feeling you're really going to learn from someone who is willing to bare all if needed.
Brené Brown
"1965: Born in San Antonio, Texas. Thought my name was French until I hitchhiked through Europe after high school and no one in France understood my name. They call me Pamela (from the show Dallas). Sigh."
Brené Brown's bio gives us highlights of her personal and professional life cleverly laid out behind photo tiles on her website. Although she's a non-fiction author, she writes about topics like courage, vulnerability, shame, and empathy. It's full of personality and gives enough insight into her experience and accolades to make one want to find out more.
About The Author Page Template
This is kind of a trick answer to a trick question. There isn't one!
But there are different styles and approaches to writing one:
A tone that reflects the type of writing you do
An attention-grabbing, opening one-liner that sums up you and your work
Including information about your experience and/or accolades to build credibility
A story that keeps readers hooked
Whether you've written your 50th book or your first, don't let an average author bio be the reason people don't pick it up to read it. And of course, if you don't have a spectacular, engaging author website for your author about page online reach out to us. We'd love to help create an engaging online experience for your readers.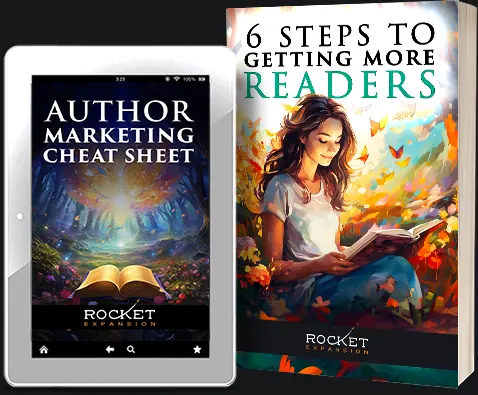 Want help with your author marketing? Get our FREE ebook and cheat sheet: 6 Steps To Getting More Readers.
By subscribing, you agree to get emails from me, Matt Ziranek. I'll respect your privacy and you can unsubscribe any time.