21 Epic Book Trailers (Inspiring Videos and Why They Work)
Why book trailers?
When it comes to online content, people are spending more time watching videos than they are reading the written word.
You might be worried that this means fewer people are reading in general. Fear not! You can use this online trend to your advantage as an author…
Book trailers add another dimension to help readers understand your book. They're used to promote books, tell stories, and sell books. Statistically, most people prefer to watch a video to learn more about something. They're also much more likely to make a purchase after watching. 
But there's a lot of bad book trailers out there. The last thing you want to do is create something that hurts your book marketing efforts.
So we decided to research the very best book trailers online. We've also included our take on why we think each book trailer works so that you can better use them to inspire your own.
After extensive research, we found these 21 truly amazing book trailers.
But, before we get into these inspiring book trailers, let's answer a few frequently asked questions about book trailers.
What is a Book Trailer?
A book trailer is a short video or teaser that introduces a book in a way that makes people want to read it.
If done correctly, using a book trailer can help improve your online presence and allow you to reach new potential readers.
Why Do I Need a Book Trailer Video?
Not everyone knows you as an author or your books. Many potential readers will only give your ad or social media post a few seconds of attention unless it's truly engaging. Not enough time to really get what your book is about.
So how do you capture them as a new audience if they don't know what you have to offer?
By using a book trailer!
What Makes a Good Book Video Trailer?
A good book trailer has the same effect as a good movie trailer.
It makes people excited about reading the book
It raises curiosity about the characters, the plot, and the story's ending.
You can, of course, also use movie trailers relevant to your genre as inspiration for your book trailer as well. When billions of dollars of box-office revenue are at stake, you can be sure a lot of careful research has gone into what makes the perfect movie trailer.
How To Make a Trailer for a Book
The details in your book trailer should be enough to draw viewers in without giving away the whole story or the plot of the story.
Keep the following in mind when deciding what to include in your book trailer:
Know your target audience
Hook your audience (create tension)
Create a script
Create a storyboard
Use The right video format
Keep it short and catchy
Use visuals and audio
Have a call-to-action
DIY or outsource?
Know your target audience
Every author has a target audience.
Since your book is written with this target audience in mind, the book trailer should also be made with this audience in mind.
Every element you choose in the trailer should speak to your target audience, the music, narration (if any), pacing (action trailers will be fast paced compared to romance, for example), fonts used, and any other choices you make in the trailer's content.
This is really author branding 101 and applies as much to your book video trailer as it does to every other aspect of your author marketing.
Hook your audience (create tension)
Use what you've already curated for your book's promotion. That's the hook! It should already capture the essence of the storyline or central theme of the book. Now you just have to convey it in video format.
You can quote one of the characters, show a glimpse of the setting where the plot unravels, a quote from a review that stands out. The options are endless.
When a person sees the hook, they should immediately get sold on reading the book.
Pro tip: The key to a great hook is creating tension and intrigue. They can be created in many ways. These should already be familiar to you as a writer to keep pages turning.
For example, show what's at stake if the main character doesn't succeed, or show the reader what they stand to gain in reading the book (if non-fiction), or even what they stand to miss out on if they don't!
Tension is the push-pull in a trailer that creates the emotion that motivates action. Don't be afraid to lean on the usual tension-creating tools in your writer's toolbox.
Create a script
You have your hook in your mind. You just need to jot it down. Having rough notes is good to start but, just like a movie trailer, you need a script.
Your book trailer should flow without awkward spaces. To avoid the awkwardness, you should structure the trailer to have a beginning, middle and end. You'll have to plan the staging, the characters you'll reveal and the powerful imagery you'll use to evoke emotions.
Think about what you want the audience to take away from the book trailer. You want to set realistic expectations that don't differ from the actual book.
Create a storyboard
You may think a script is enough for your book trailer planning, but a storyboard is an excellent tool to add.
Your storyboard should be an overview of what shots you'll have for the trailer. This will help you envision your idea and spot if something is missing or doesn't make sense.
Use the right video format
Where you will be sharing your book trailer affects the formatting of it.
You can use square video formatting for social media posts, landscape for YouTube and your author website and vertical for story posts.
You may be posting it everywhere! In that case, you should make sure either your trailer works for each format or that you have other options for how it looks on vertical and square posts.
Keep it short and catchy
Remember that this is a teaser, it should not be more than 2 minutes.
The closer you are to reaching the 2-minute mark, the more information you end up giving away. You also run the risk of losing your audience before you deliver the call to action that tells the viewer what you want them to do (more on that shortly).
Use visuals and audio
Whether you choose to go for videos or images will depend on the concept of your book trailer, but they should complement your book's genre. This includes the music as well.
It would be rather strange to use punk rock music in a book trailer for a children's book, right?
So, although your trailer should have a sense of originality, it should still fit the general theme of the particular genre the book belongs to.
Remember not to use copyrighted music!
Have a call-to-action
You need to have a strong Call-to-Action encouraging the reader to purchase the book.
There is nothing more painful for a customer than wanting something but not knowing where to find it.
So, make sure you don't only tell people to buy the book, but tell them where to buy the book.
If you're teasing a future release, tell them when it'll be available as well.
Tip: Don't forget to include the author of the book (yourself, of course!), your social media handles and your author website.
DIY or outsource?
DIY
If you decide to do the book trailer without professional help, you'll have to invest in equipment that will help you produce a high-quality book trailer. Because a bad book trailer will do damage for your book's promotion.
You'll need:
A good camera (plus you'll need to learn how to use it).
A tripod for your camera (you don't want to have shaky footage).
A good microphone (maybe more if you're hiring actors).
Professional Editing software.
Lighting (a light ring, for example).
Depending on what equipment you buy, DIY could be cheaper than outsourcing. But it definitely takes more time.
If you want to go this route, then here's some links to useful tools:
You'll also need to hire good actors and voice actors based on the direction of your book trailer.
Using good quality equipment and tools is vital for your book trailer. You don't want your audience getting pulled out of the experience by low quality images and video cuts.
Outsource
Outsourcing may cost more but it will save you a lot of time.
And if you hire a professional, they will deal with getting experienced actors, voice actors and editors.
Plus, they'll know exactly what they're doing!
All you'll have to do is be the brains behind the captivating story of the book trailer.
Top Book Trailer Examples To Inspire You (and Why We Love Them)
Impyrium by Henry H. Neff
Bring your story to life with animation
Different types of animations are used here and they bring some uniqueness to the trailer.
The combination of 2D and 3D animation makes the trailer stand out. The trailer sets the tension and plotline and engages the viewer.
Keep in mind that quality animation is expensive. If you want to use this approach, be willing to pay for an animation team that knows what they're doing.
Miss Peregrine's Home for Peculiar Children
Have your story told
This is a great approach for children's books. It's very relatable and makes you feel like you're with the narrator as they tell the tale.
Having someone read the story as they would to a child makes your child-like imagination start working again. You can imagine how it will be reading the book or listening to it.
The Moral Bucket List (The Road to Character) by David Brooks
Use your experience to sell the hook.
We're swung straight into the narrative of this book, with the author speaking directly to you.
The simple animations take you on a journey through the thought processes that inspired this book, which is also inside the book itself. This works well as it tries to relate the author's experience to what the reader may be feeling themselves.
The animations are broken up by text that represents the arc of the trailer's story. This helps hold your attention until the end of the trailer.
Gods & Monsters by Shelby Mahurin
Get readers to visualize the tension in your story.
Showing scenes from the book can make someone want to know the story behind that scene. What events took place leading up to the critical points of your stories.
The trailer is very visual and can help in creating curiosity as the reader wants to see the full picture unfold.
Opposite of Always by Justin A. Reynolds
Share your best reviews.
Having great reviews on your book trailer helps give your book credibility. We're social creatures. Before we buy and risk wasting cash and time, we confirm we're making the right choice by checking out other reader experiences.
Giving one more social confirmation that your book is worth the read might be the thing you need to make another book sale.
Fugitive Six by Pittacus Lore
Leave readers asking questions.
This trailer leaves a lot of unanswered questions. From the title of the book, you can already guess that the storyline is about six fugitives, but the trailer only gives you the names of those fugitives with no additional information apart from the fact that someone or something wants to locate these six people.
The book is science/adventure fiction and the sound and visuals fit the genre. It's a simple trailer that conveys the essence of this science fiction thriller.
War Storm by Victoria Aveyard
Share some lines from your book/ Show the thoughts of your leading characters.
This is another great way of hooking your audience without giving away too much information.
Sharing the thoughts of your characters gives an idea about what might unfold in the story. It makes viewers wonder why the character has those thoughts. What inspired or drove this character to feel this way?
Knowing what a character thinks adds a lot of detail without having to say much. Someone watching the trailer will draw their own conclusions until they read the book.
The Scattering by Kimberly McCreight
Use suspense to create curiosity about the story.
This trailer is a great example of how you can capture your audience with suspense. It is well made and feels like a book trailer for a thriller fiction book.
The trailer is only 30-seconds long, and it still manages to create curiosity about the story. This just comes to show that your book trailer does not have to be lengthy for people to be sold on reading your book.
It's also essentially 2 voice actors, a dial tone and a sound wave graphic, with an end screen for the books of course. This is a good example of how a great trailer doesn't have to be expensive.
Say What You Will by Cammie McGovern
Let your readers speak for your book.
Another crowdsourcing approach using a compilation of videos and pictures from fans saying what they want to say. It portrays what the book is about without giving anything away.
Because this is a non-fiction book, it uses real people with real stories. A perfect fit for the book genre.
Even the music lyrics are an extension of the book's message.
Everless by Sara Holland
Use eye-catching animation.
The animation in this trailer is very detailed and has strong contrast which matches the mood of the music and sound effects.
Having powerful animation makes the trailer look professional and suggests to the viewer they're probably going to find an equally professionally written story.
A professional-looking book trailer can add a lot of credibility to your book. As mentioned before, a trailer like this is a lot more expensive to produce than many other approaches.
The Wretched of Muirwood by Jeff Wheeler
Using only graphics and text. Let the reader focus on the words.
There is no voiceover or narration in this trailer. This is a great way to get people to pay attention to the trailer.
Sometimes with music or more specifically voiceovers, people can be passive when listening or watching something.
Using only graphics solves the problem. The person has no choice but to be attentive if they want to know about the book.
But if you go for this style of a book trailer, just make sure your graphics are great. Your font and the images must be eye-catching, otherwise, people will just get bored and not get to the end of the trailer.
This kind of trailer is also a lot easier to create as well.
Wherever You Go by Pat Zietlow Miller
Use illustrations from the book.
For children's books, using illusions from the book is a great way to give the person watching an idea of what to expect. Most likely that person is the parent, teacher or someone who will be reading to children. They'll be showing the illustrations to their kids as they read.
Since children are more visual, showing the person buying the book what to expect in this experience gives them more reason to buy your book. Especially if they like the illustrations.
Between Us by Mari Suggs
Use catchy music that fits the genre.
This music used here is not overly romantic but is still perfect for a romance novel.
Having music that matches the genre and the general theme of your trailer can make all the difference.
Music adds to the whole experience and helps capture the mood of what it might feel like to read your book.
The Vault of Vishnu by Ashwin Sanghi
Details are given without the plot being given away.
This trailer is a great example of how you share details about the book without giving away the plot.
It summarises aspects of the book but leaves out important information. Making you wonder about how everything mentioned comes together.
One More Thing by B.J. Novak
Make it humorous (if appropriate).
As I watched this book trailer, I tried to understand the angle they were going for and after a minute I realised that this trailer is a ball of comedy.
The author knows his audience, hence he featured some other well-known comedians apart from himself (Mindy Kaling).
The trailer itself is a short skit comedy and makes you want to know what other fun things might be in the book.
Trazos by Fernanda Frick
Good enough to be a movie trailer.
If you have the creative prowess of Fernanda Frick, you have to use it when creating your book trailer.
This trailer for her graphic novel follows a clear structure that leads to a conclusion that shows the main character's determination as well as a peak at the graphic format itself for the novel.
It uses quick cuts to move the viewer through the scenes to keep the pace brisk, making the reader want to know more.
The emotions of the characters are represented well even though none of them speak a word, showing off the author's illustrative and storytelling skills.
The music is lovely and pays homage to the other languages available for the novel.
Bravelands by Erin Hunter
Have a great introduction.
Although book trailers are short, if the introduction is bad then your viewer might never even get to the end.
The introduction to this trailer is fantastic!
From the beginning the trailer demands attention.
It begins by introducing the author. If you are familiar with their books, you are more willing to want to watch the rest of the trailer to see more about their new release. It then shows what's at stake in the story, creating tension right away that pulls you along. Finally, we learn about the unlikely (and very original) heroes we'll journey with on the way.
Cursebreaker by Brigid Kemmerer
Typography still matters.
One might think the typography you use in your book trailer doesn't matter as much.
It does!
The typography used here matches the book cover art. So when the books appear at the end it ties everything together. This makes the trailer feel like a true extension of the book's branding.
The Last Namsara by Kristen Ciccarelli
Have your main character tell their story.
Letting the main character explain what happens in the book is another way to narrate the book.
This brings the book to life by making the character more real. We're left wondering if they'll fulfill their quest and, of course, need to read the book to find out!
Born a Crime by Trevor Noah
Let the author do the talking.
Are you already a well-known personality on screen, or at least feel comfortable and confident in front of the camera? Why not make the trailer yourself.
Since the book is about Trevor's life, it makes sense for him to tell you about the book. This makes it more personal.
I think I also just like his trailer because he's just being his funny natural self.
30th Anniversary Book Trailer by Philippa Gregory
Showcase your series.
If you have been writing books for a long time or have published many books, this is definitely something you should consider.
Looking back on all your books so far and using them as your trailer not only markets your new book but gives a chance to some books that may not have been seen much.
Beyond Book Trailers
A book video trailer can be a fantastic way to engage readers and make them buy your book.
But it's far from the only marketing tool in your author marketing tool kit.
You're going to want a central hub online where your beautiful book trailers live. This home is your author website. This will also allow you to create the call to action you want to go directly under your trailer.
If you need help with author website design services, we're here to help! Get in touch with us today to create a fun and exciting website! If you'd like to learn more about author websites in general and see a ton more examples check out our 67 author websites mega post.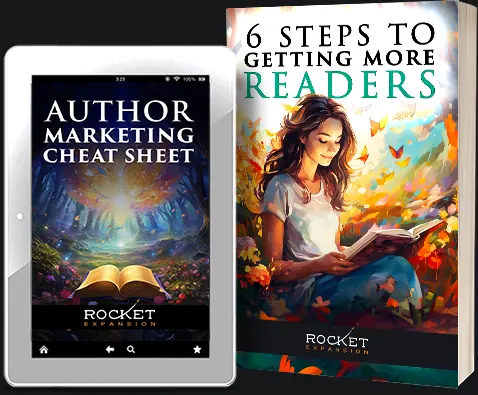 Want help with your author marketing? Get our FREE ebook and cheat sheet: 6 Steps To Getting More Readers.
By subscribing, you agree to get emails from me, Matt Ziranek. I'll respect your privacy and you can unsubscribe any time.