Your Reader Magnets Manual (An Indie Author Growth Guide)
When an irresistible reader magnet meets an unstoppable reader…
You need to get new readers to take a chance on your book and hit that buy button.
Even with a great cover and a convincing blurb, it's still sometimes not enough to make that sale.
You need an irresistible force to attract new readers…
Meet your new best friend:
The reader magnet.
When it comes to marketing, you need to look beyond the book sale. You also need a way to meaningfully connect with your audience and create a direct line with your readers.
And this is what a reader magnet can do for you. Increase your readership, get your work out there, and help you build valuable connections with your audience.
We are going to dive deep into the world of reader magnets:
What exactly are they?
How can you use them to generate more readers?
Why might you need them?
How can you use them to build your presence as an author and best serve your audience?
What Is a Reader Magnet?
The term reader magnet is the author marketing version of the more general online marketing term "lead magnet".
A lead magnet is something given away to convince someone to give you their contact details (usually an email address) and so become a "lead".
Put as simply as possible, your reader magnet is something you give away in exchange for a reader's email address.
A reader magnet can be many things.
It can be a free book, a short story, or a free sample of your book given to readers in exchange for them joining your newsletter.
Readers have a no-risk chance to learn about you as an author and you gain the opportunity to sell them future books, build your online community and grow your email list.
What Makes a Good Reader Magnet?
A good reader magnet can turn casual readers into superfans, and superfans into evangelists.
But what makes a good reader magnet?
It's relevant to your readers
Even your best offer will fall short if it does not resonate with your audience. A good reader magnet serves a purpose and fills a need for the exact type of reader you want to attract.
Imagine giving away 1000 Ways to Get Your Dog to Behave ebook to your audience of fantasy readers?
You may get a lot of aspiring dog trainers on your list, but you probably won't get anyone interested in buying your books!
It has perceived value
Reader Magnets should show your readers that you can actually add value to their lives.
Depending on your genre, this could mean entertaining them, inspiring them, or even educating them.
People buy things because they believe that having them is worth more than the money that is asked for them.
Your reader magnet is your big chance to prove this to your audience.
You're going to need to give away something more than an email every few months when a new book is released, or a tweet about your latest sale.
Or a picture of your cat. I know, I love cats too! But please… no.
Do I Need a Reader Magnet?
You want to build relationships with your readers, right? It is one thing to sell a lot of books but nurturing your readers and ensuring you have contact with them is vital.
One of the most effective ways to do this is through your reader magnet.
If you don't want a mailing list then obviously you don't need a reader magnet…
For example, if your publisher is handling your sales and marketing really well. You'd rather just write because you know that's a better use of your time.
But if you want to build your email list, grow your current customer base, and establish your brand as an author then the reader magnet is the way to go.
How to Create a Reader Magnet
The next step is creating a reader magnet that will entice your readers, and have them click that subscribe button.
1. Generate reader magnet ideas:
The first step is to generate ideas for your content. What type of content are good reader magnet options? Here are five ideas that you can use:
An Ebook
Infographic
Slideshows
Quizzes
Product Comparison
2. Create your reader magnet
Create an outline of what you want your lead magnet to look like:
Include a compelling title. You want to give your content a great name that clues your reader into what they're about to see.
Ensure you have a Call To Action: People love to take action, but a lot of the time they need some prompting. Use your content as a chance to get your desired results, by having your magnet content encourage people to take a specific action.
Tap into viewers' emotions: Find out the touch points of your viewers, and what makes them happy, and engaged. If you are a romance author, look into how you can offer your readers more than relationships and romance content beyond the book. 
3. Design your reader magnet
Now that you have the content ready, creating an attractive and professional design is your next step.
Fiverr.com has great affordable design covers. You can search for e-book cover designs in a variety of categories.
4. Write a compelling reader magnet pitch
In today's world, we are constantly bombarded with information. So you want to make sure you hook your reader in an instant.
You want to give them an irresistible reason to sign up. For example, your pitch could be along the lines of:
"Get exclusive, never-before-published content when you sign up for my mailing list" and then say exactly what they'll get of course!
At Rocket Expansion, we offer website design services for authors. Check out how we use a reader magnet to draw in our author audience (don't be shy, you can literally sign up right here in this example!)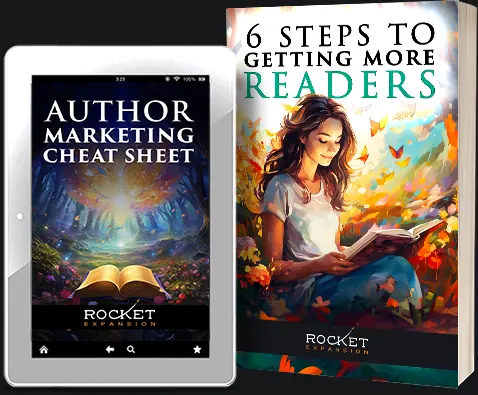 Want help with your author marketing? Get our FREE ebook and cheat sheet: 6 Steps To Getting More Readers.
By subscribing, you agree to get emails from me, Matt Ziranek. I'll respect your privacy and you can unsubscribe any time.
5. Build a landing page
Create a landing page where your content lives behind a form. This is what makes your content a reader magnet.
Without the ability to capture email addresses, your ebook or webinar falls under general content marketing.
Fresh ideas for your reader magnet content
There are awesome ways to rope your viewers in, here are some ideas for creating a reader magnet that sells.
Make video content
Reader magnets can offer your readers a chance to peek behind your curtains. They can see how you work, come up with ideas, deal with writer's block, and your daily life of authorhood.
Allow subscribers to take a virtual seat at your office in exchange for their email. Record video updates about your writing sessions, and any valuable author knowledge and send them to your readers via email.
Or create a virtual hangout with your readers! In exchange for their email, you can offer a special webinar where your readers have the opportunity to ask questions about your book, characters, or anything else they want to know.
Offer activities related to your stories
This can be in the form of recipes, crafts, puzzles or anything related to your book. You can have a theme or it could be seasonal.
Have a contest with a prize
Everyone loves a contest, especially when there is winning involved and it's free.
The prize can be a book or anything related to your stories. For example, you can have a branded T-shirt with a well-known quote from your book.
Yes, you spend more money upfront because you have to fit the bill for the prize, but rather see it as an investment to nurture and grow your fan base.
A Cheat Sheet
A cheat sheet can be anything that helps people understand what you are about. Maybe you have a map of your fantasy land, or a character guide. If you are a fantasy author, you can use a fantasy world or any story that deeply explores a particular setting.
Newsletters
Build an online community with bi-weekly or monthly newsletters that keep your readers up to date on your projects, writing, and work. Check out Mailerlite for great newsletter design examples.
Should You Give Your Whole Book Away?
It may seem like a good idea to give away a free novel or short story collection. This is what you hear all too often as a reader magnet suggestion.
People will often say, "Give away the first book in your series." Or, "Give away a standalone novel that is really good and will encourage people to buy your other novels."
The problem is you give away your complete book when you could rather make money from it. You are giving away the only thing you have for sale.
So what do we suggest you do instead? Look into writing a prequel or a collection of stories, which is great because you can grow your own work at the same time whilst making marketing collateral for your site.
Offering your potential audience a snippet into your work allows them to start engaging in your work and ultimately, one hopes, lead them to buy one of your novels.
How to Deliver Your Reader Magnet
The next step for your reader magnet is delivering it to your subscribers. Remember, you want it to be as easy as possible.
You do not want to be receiving emails from subscribers who said they couldn't download their freebie.
There are many services you can use to deliver your emails, but here are some of our favorites.
Websites
Many websites like Wix, Hubspot, and WordPress, have built-in email marketing tools. They allow you to build a multi-step campaign and offer customization tools like the ability to address your subscribers by name.
They also offer easy sign-up forms for your website without needing to redirect to a different landing page.
Book Funnel
Book Funnel is one of the easiest and most affordable ways for you to deliver your reader magnet. They have easy-to-implement landing pages that are super easy to set up.
Book Funnel pricing is annually from $20 to $250. It all depends on your needs, goals, and required features, you can choose from one of the three plans.
Email Servers
An email server is another option to deliver your reader magnet. It is also easy to set up. Have a look at MailChimp or Active Campaign. They both offer free trials that allow you to test out the software.
The email server can help you keep track of your reach, how many of subscribers are opening your email, and the dreaded…unsubscribes. You can use this data to help you identify where you make changes or improve the content of your magnets.
Learn From The Best
We found a few excellent examples of how authors today are using reader magnets on their websites:
She has a stunning website with a great magnet for readers to sign up for her newsletter. She shares her world through updates on her projects, publications, and sundry things that may be interesting to people who like her writing.
We also like that her newsletter has its own title: Irregular Circles. It creates an online community for her followers and readers.
He doesn't just give away one short story, he gives away an entire short story collection!
His stories are set in his fantasy universes. The collection is a great introduction to this world and an example of a well-used reader magnet.
On his front page and all over his site, Kevin offers a free book in exchange for signing up for his newsletter–which he calls a "Readers Group." Once again, having a newsletter with a title creates an author's own online community, and offers more than a simple sign-up and receive updates.
As you arrive on Lise's author website homepage there is an option to subscribe. She also offers a free workbook download in exchange for your email.
Next Steps
Reader Magnets are an important step in email marketing, but they are also a key element of your writing website. They help you talk to visitors time and time again. Simple readers then become fans.
Author websites are all about serving your audience. We are here to help you create an experience for your audience that entices them to get on your mailing list. Having a professional author website design is a great way to put your work out there. It will enable you to grow your mailing list through your reader magnet and establish your online presence as an author worth reading. Feel free to reach out to us to discuss your website needs.
Oh and before you go, since we're on the subject of reader magnets, why don't you go ahead and sign up for ours 😉 👇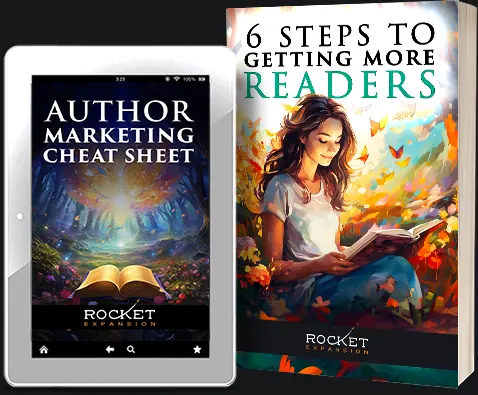 Want help with your author marketing? Get our FREE ebook and cheat sheet: 6 Steps To Getting More Readers.
By subscribing, you agree to get emails from me, Matt Ziranek. I'll respect your privacy and you can unsubscribe any time.